Enhancing Your Bust Line
Breast Augmentation Manhattan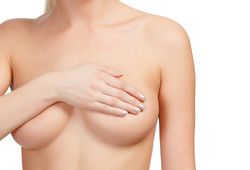 A breast augmentation procedure can make a substantial difference not only in a woman's physical appearance, but in her self confidence. This popular cosmetic surgery adds volume to the breasts with saline or silicone implants. If you are considering a breast augmentation, we invite you to contact the Manhattan offices of Dr. Craig Foster to schedule a personalized consultation with our team today.
Types of Breast Implants
Advancements in surgical techniques and breast implants give women many options. Dr. Craig Foster offers both saline and silicone breast implants, each of which offers unique benefits. Your candidacy will depend on your unique biological makeup and goals.
Saline breast implants are composed of a collapsible silicone pouch filled with saline (salt water). These implants are inserted within the breast, below or above the muscle, and are then filled after they are placed. They offer many benefits, including the ability to be implanted through an incision in the lower crease of the breast, through the nipple, or through the armpit. One benefit of saline implants is that Dr. Foster can adjust the fill of each implant to suit a woman's shape, independently shaping each breast to look even and symmetrical. In the rare event that a saline implant should rupture, saline water will simply be absorbed by the body, posing no risk to the surrounding tissues. The silicone shell is subsequently removed.
Silicone implants are considered by some patients to have a more natural look than saline implants. These pre-filled implants come in a wide range of sizes to meet patients' unique goals. Dr. Foster and our patients work together to decide the size of implant that will work best with each woman's body. These implants are usually inserted through an incision in the lower crease of the breast, and can be placed, like saline implants, either below or above the pectoral muscle. Should silicone implants rupture, the silicone shell and its contents must be surgically removed.
Both saline and silicone implants are excellent options for breast augmentation. Dr. Foster takes great care to understand each patient's goals and help determine which kind of implant will best meet those goals.
Implant Placement and Insertion Techniques
The way in which a breast implant is placed within the body will affect not only the look of breast implants, but the level of scarring and healing time required post-surgery. Saline and silicone implants can be placed above or below the breast muscle. Submuscular implants are placed below the muscle and are considered by some to create a more natural look in the breast than those placed above the muscle. Subglandular implants often require less healing time and may result in a more dramatic enhancement.
Dr. Foster inserts implants surgically using one of three incision methods:
An incision around the areola, or the dark part surrounding the nipple. This method has very little scarring because the incision is small and lies on the line where skin color changes around the nipple.
An incision below the breast. Using this method, scars are easily concealed in the lower crease of the breast.
An incision under the armpit. Using this incision technique, an empty saline breast implant is inserted through a small pathway under the skin to the breast, where it is then filled with saline. Dr. Foster performs transaxillary insertions the least but it is an option for patients who want no visible scarring.
Customizing Your Breast Augmentation
Above all, a breast augmentation should give a woman increased confidence in her appearance. Dr. Foster will help you decide which type of breast implant, insertion technique, and placement are right for you. The recovery time for breast augmentation is dependent upon these factors, but women usually are able to return to regular activities within a few weeks following surgery. Dr. Foster will closely monitor your progress and ensure that you are healing properly.
For more information on breast augmentation surgery, including information about cost of breast augmentation, please contact the Manhattan offices of Dr. Craig Foster to schedule a consultation today.